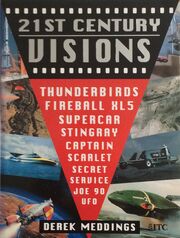 21st Century Visions is a book. It was ghostwritten for Derek Meddings by Sam Denham, who went under the pen name Sam Mitchell.
Published in 1993, 21st Century Visions goes into detail about how the special effects for A.P. Films / Century 21 productions - from Supercar to Thunderbirds to UFO - were produced.
To enable him to write the book, Denham conducted interviews with Derek Meddings as well as some of his assistants.
Additional info
Edit
First published by: Dragon's World
Copyright: Dragon's World; Derek Meddings, Sam Denham - text; ITC Entertainment Group Ltd - photographs; Derek Meddings - line drawings
Design: Cooper Wilson
Design Liaison: Victoria Furbisher
DTP Manager: Keith Bambury
Editor: Patricia Burgess
Editorial Director: Pippa Rubinstein
Grateful thanks to the following for giving invaluable help with research for the book: John Read, Mary Turner, David Elliott, Alan Pattillo, Desmond Saunders, David Lane, Roger Woodburn, Bob Bell, Keith Wilson, Brian Johnson, Ian Scoones, Shaun Whittacker-Cook, Peter Wragg, Richard Conway, Wag Evans, Ray Brown, Peter Aston, and Mike Trim

Also grateful thanks to: Jon Keeble at ITC Entertainment Group Ltd for suggesting the project, and for his support in bringing it to completion; Tony McKay of Timescreen magazine for providing the initial point of contact and a source of expert information; and Anthony Hunt, Roger Lofting, and Brenda Coxon of the Magic Camera Company for administrative and technical assistance

ISBN: 1 85028 243 9
Original artwork supplied by: Phil Rae, Mike Trim, and Derek Meddings
Photographic material courtesy of: ITC Entertainment, the British Film Institute, Fiona Maxwell at Polygram Video, Sarah Rees at Kee-Scott, Jan Vincent Rudski of TV Zone, Mike Reccia of Century 21 magazine, Graham Bleathman, Bill Earle, Mike Trim, Phil Rae, and Derek Meddings
Printed in: Hong Kong
Typeset by: Dragon's World
Ad blocker interference detected!
Wikia is a free-to-use site that makes money from advertising. We have a modified experience for viewers using ad blockers

Wikia is not accessible if you've made further modifications. Remove the custom ad blocker rule(s) and the page will load as expected.