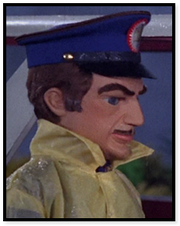 The 2nd Policeman is a character from Edge Of Impact. He is seen manning the roadblock before the broken bridge.
The 2nd Policeman was voiced by Ray Barrett.
The rain coat he wears was worn by Troy Tempest, Phones Sheridan and Frank Lincoln a year earlier in the "Stingray" episode The Lighthouse Dwellers.
Ad blocker interference detected!
Wikia is a free-to-use site that makes money from advertising. We have a modified experience for viewers using ad blockers

Wikia is not accessible if you've made further modifications. Remove the custom ad blocker rule(s) and the page will load as expected.