Even after fifty years, Thunderbirds Collectables are again being released, this time to celebrate the fiftieth anniversary on the first episode that was screened on British TV back in 1965, on the 30th of September.
Below is a list of products that have been released so far or are about to hit the market.
Trivia Game
Edit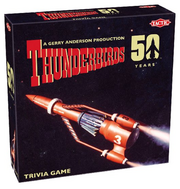 Thunderbirds classic fiftieth anniversary trivia board game. With questions from every episode, it's the ultimate test of your true Thunderbird knowledge.
Released by Tactic.
Retail price £29.99
Thunderbirds 3D Chess Game
Edit
Limited edition, classic chess game with a Thunderbirds theme.
Possible release date: September 2015.
Released by Tactic.
Retail price £34.99
Thunderbird Board Game
Edit
It as a 'co-operative board game' where the players get the chance to test their skills as members of International Rescue.
Released by Modiphius Entertainment UK.
Release date Autumn 2015.
Retail price £?
DVD Box Sets
Edit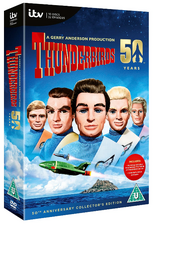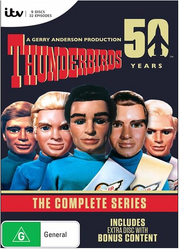 UK release of the classic box set in same format as previous editions. This comes with a bonus disc: Thunderbirds De-Classified.
Released by ITV Studios UK.
Release date 28th September 2015.
Retail price £18.00/£39.00

Australian release; same format as above. Includes bonus disc, Thunderbirds De-Classified.
Released by ITV Studios Australia
Release date August 2015
Retail price AU$37.99
Thunderbird Legal Tender Silver Coins
Edit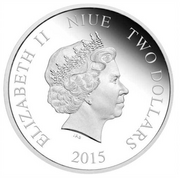 Limited edition, Fine silver proof coins (1 troy oz). Individually numbered certificate of authenticity, and the first ever Thunderbirds legal tender collectible release featuring the Thunderbirds fiftieth anniversary logo officially licensed Thunderbirds fiftieth anniversary coins. This is an ongoing set, and six have been known to be released.
Produced by: Royal Australian Mint.
Released for Niue Island (New Zealand).
Release date July 2015 (1st one)
Retail price £75.00, AU$115 each.
Haynes Thunderbirds Agents Technical Manual
Edit
For further information on this release please see: Thunderbirds Manual (Agents' Technical Manual)
1,000 Piece Jigsaw
Edit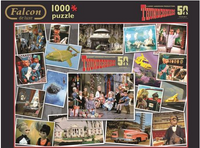 There is a special edition fiftieth anniversary 1000 piece jigsaw. The image features eighteen different images that have been taking from the show and displayed in a montage display.
Released by Falcon de Luxe
Release date September 2015
Retail price £11.99
Jigsaw Box Set
Edit
Three individual jigsaws in one box. Each measures 49cm x 35cm.
It has "Box One" on the lid, so expect other releases later on.
Released by Falcon de Luxe
Release date September 2015
Retail price £19.99
Thunderbirds 50 The Vault Book
Edit
Celebrating 50 years of Thunderbirds with this book featuring never before photos from behind the scenes of not just Thunderbirds but all the other classic Gerry and Sylvia Anderson Supermarionation puppet shows.
Released by Marcus Hearn
Release date November 2015
Retail price £25.00
Planned releases
Edit
Other memorabilia is planned for later, although release dates and retail prices have not been announced.
Ad blocker interference detected!
Wikia is a free-to-use site that makes money from advertising. We have a modified experience for viewers using ad blockers

Wikia is not accessible if you've made further modifications. Remove the custom ad blocker rule(s) and the page will load as expected.