A subsidiary of the similarly-named cable TV channel, A&E Home Video distribute numerous shows and movies on DVD in the United States, including original (Storage Wars, Duck Dynasty, Flight 93) and licensed (Benny Hill, Monty Python) programs.
In the early 2000's A&E acquired the rights to release DVDs of most Anderson-produced shows, including Thunderbirds, Space 1999, Captain Scarlet, and Terrahawks.
As of 2015, the U.S. distribution rights for Thunderbirds, Fireball XL5, Stingray, and Captain Scarlet have moved to Shout! Factory through their new deal with ITV.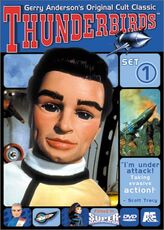 Thunderbirds Mega Set (DVD)
Thunderbirds 40th Anniversary Megaset (DVD)
External Links
Edit
Ad blocker interference detected!
Wikia is a free-to-use site that makes money from advertising. We have a modified experience for viewers using ad blockers

Wikia is not accessible if you've made further modifications. Remove the custom ad blocker rule(s) and the page will load as expected.