Equipment & Vehicles
Air-Sea Rescue Jets

Type:
Search and rescue aircraft
Affiliation:
Air-sea rescue
Appearances:
The Impostors
Air Sea Rescue jets
are employed by airports, Air Force bases and Space Centres across the globe. They are used in Search and Rescue Operations and mainly do reconnaissance missions while searching for disappeared planes, ships and so on. They are launched from elevated, rectangular buildings.
Thunderbirds (TV Series)
Edit
Their first appearance was in Operation Crash-Dive. Seahawks were launched from their base after a mayday call was received by London International Airport from Fireflash 3. However, Fireflash 3 had a malfunction with its Automatic Fixer, causing the crew to report a position that was 50 miles away from its real position. The search for Fireflash 3 was later called off. They next appear in The Impostors, joining the search for International Rescue, and after that in The Cham-Cham, to rescue the crew of an RTL-2 transporter plane that is under attack from enemy fighter jets.
Their appearances in The Impostors and The Cham-Cham are simply in the form of reused clips from Operation Crash-Dive.
Main article: Seahawk Jet
Thunderbirds Are Go
Edit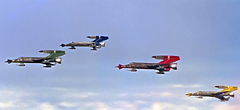 After The Hood had accidentally sabotaged Zero X 1, sending it on a collision course with the Atlantic Ocean, a squadron of Air-Sea Rescue jets were launched to survey the position of Zero X's Escape Unit.
Main article: Air Sea Rescue Jet (TBAG)
Ad blocker interference detected!
Wikia is a free-to-use site that makes money from advertising. We have a modified experience for viewers using ad blockers

Wikia is not accessible if you've made further modifications. Remove the custom ad blocker rule(s) and the page will load as expected.