Air Terrainean Airways is an International airline, whose fleet of aircraft includes at least 5 atomic-powered Fireflashes. Based at London International Airport, they fly to several destinations around the world, including New York, San Francisco, Tokyo and Nice in France.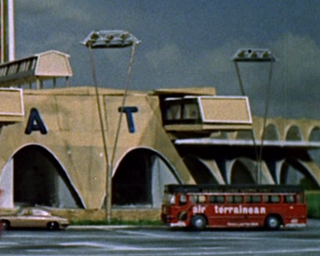 The fleet consists of Fireflash 1, piloted by the experienced Captain Hanson, Fireflash 3 that was lost over the sea with the pilot presumed dead, Fireflash 4 whose crew had a narrow escape when their plane was sabotaged, ending up trapped in the plane on the bottom of the ocean until they were rescued in the nick of time by Gordon Tracy, and Fireflash 5 that was used for safety tests and flow by Scott Tracy of International Rescue, his Co-Pilot was Captain Hanson.
Other Personnel
Edit
Support staff includes a guide, as well as a Hostess at London Airport.
A Cocktail Waiter was seen aboard serving customers in the cocktail lounge of Fireflash 1 and another one was seen on the flight to Nice.
The Control Tower was also run by Air Terrainean Staff lead by Commander Norman.
All Air Terrainean flight crew wear uniforms in sky blue, while the ground crew wear khaki uniforms.
Ad blocker interference detected!
Wikia is a free-to-use site that makes money from advertising. We have a modified experience for viewers using ad blockers

Wikia is not accessible if you've made further modifications. Remove the custom ad blocker rule(s) and the page will load as expected.