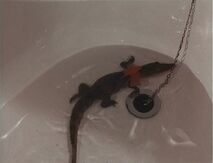 Alan Tracy's pet alligator was a gift for his 22nd birthday from Tin-Tin Kyrano.
Appearance
Edit
The gator appears only in Attack of the Alligators!, at the very end of the episode, when Tin-Tin asks Alan to look at something in the bathroom. She then tells him to shut his eyes, and when he opens them, he finds there's an alligator in the bath tub. Tin-Tin tells him he said it'd be nice to have a pet, so she got it him for his birthday (which isn't until the day after).
Despite facing alligators grown to monstrous proportions earlier on in the episode, Alan manages to laugh it off.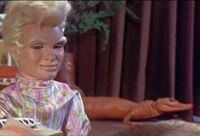 Although it is unknown what became of the creature, it is noteworthy that in the movie Thunderbirds Are Go, a stuffed alligator is seen on the floor of Alan's bedroom.
As usual, the "alligator" is in fact a baby crocodile.
Ad blocker interference detected!
Wikia is a free-to-use site that makes money from advertising. We have a modified experience for viewers using ad blockers

Wikia is not accessible if you've made further modifications. Remove the custom ad blocker rule(s) and the page will load as expected.