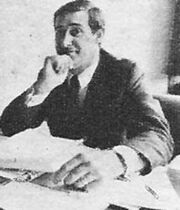 Alan Fennell (December 10, 1936 - December 10, 2001) was a writer who worked on both seasons of Thunderbirds. He also wrote the audio stories The Stately Homes Robberies and Introducing Thunderbirds, which in 2015 were adapted into visual episodes.
In the 1990s Fennell became involved with the Thunderbirds comic published by Fleetway. He additionally edited and compiled The International Rescue Book of Thunderbirds: FAB Cross-sections.
An interview with Fennell was published in No. 11 of the Century 21 magazine.
Supermarionation Cross-sections is dedicated to Alan Fennell along with a number of other individuals who had involvement with the numerous A.P. Films/Century 21 productions. gallery> AlanFennell-02.jpg|Alan Fennell c. 1993 AlanFennell-Autograph.jpg|Alan Fennell's autograph </gallery>
External Links
Edit
Ad blocker interference detected!
Wikia is a free-to-use site that makes money from advertising. We have a modified experience for viewers using ad blockers

Wikia is not accessible if you've made further modifications. Remove the custom ad blocker rule(s) and the page will load as expected.