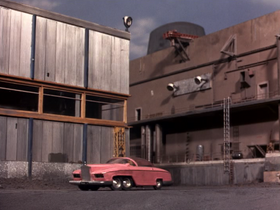 Brains is visiting Lady Penelope in England and both witness the disaster of the Martian Space Probe taking place on television. They rush to the Allington Suspension Bridge in FAB 1, but the approach road is blocked by sightseers. Brains makes his way to the bridge on foot, while Lady Penelope and Parker arrange a diversion by blowing up the disused Allington Research Centre nearby, drawing the crowd's attention away from the bridge so as not to hamper the rescue operation.
Ad blocker interference detected!
Wikia is a free-to-use site that makes money from advertising. We have a modified experience for viewers using ad blockers

Wikia is not accessible if you've made further modifications. Remove the custom ad blocker rule(s) and the page will load as expected.