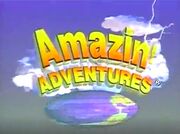 A former subsidiary of Bohbot Entertainment in the United States, Amazin' Adventures was a weekend block of programs and cartoons aimed at the childrens' first-run syndication market during the 1990's. The block served as an attempt to wrestle control away from successes including The Disney Afternoon, and usually ran over one or two hours.
Beginning in 1992, Amazin' Adventures was available to numerous independent stations, along with UPN and WB. Notable licensers included DiC and Saban Entertainment at first, though later expanded with Ruby-Spears and New Frontier. This resulting in a wide variety of programs over the years, such as Double Dragon, Mighty Max, The Hurricanes, and Saban's Gulliver's Travels in 1992, then followed by Street Sharks, Skysurfer Strike Force, Mega Man, and Princess Gwenevere in 1994. As with most syndication blocks, the series line-up rotated every few months.
Turbocharged Thunderbirds was one of the programs selected for broadcast as part of this block, its first episode airing in the 7:30am timeslot during early 1995 (a few weeks after the world premier on FOX, which ran the series on Sundays at 5:30am). The series continued (though later switched to an 8:05am timeslot) until its thirteenth and final episode aired.
While enjoying initial success, Amazin' Adventures saw a conclusion in 1997.
External Links
Edit
Ad blocker interference detected!
Wikia is a free-to-use site that makes money from advertising. We have a modified experience for viewers using ad blockers

Wikia is not accessible if you've made further modifications. Remove the custom ad blocker rule(s) and the page will load as expected.