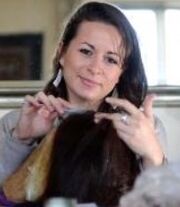 Amy Holt (born September 4th, 1985) is a wig maker and director of Amiwigs. She has contributed products to War Horse (2011), Snow White and the Huntsman (2012), and Thor: The Dark World (2013).
Holt made several wigs for Lady Penelope Creighton-Ward, using real hair instead of mohair, for Thunderbirds 1965. She received a on-screen credit at the end of The Stately Homes Robberies, where Holt was credited as "Lady Penelope's wigs by".
External Links
Edit
Ad blocker interference detected!
Wikia is a free-to-use site that makes money from advertising. We have a modified experience for viewers using ad blockers

Wikia is not accessible if you've made further modifications. Remove the custom ad blocker rule(s) and the page will load as expected.