The Anderbad Express was a Monotrain seen in the episode The Perils Of Penelope. Lady Penelope Creighton-Ward and Sir Jeremy Hodge took the overnight service, in their quest to find Professor Borender.
Monotrain Interior
Edit
The Route
Edit
The Anderbad express leaves Paris had travels through mountainous regions. To reach Anderbad it has to travel through a massive man made tunnel to reach the station on the other side.
Monotrain Staff
Edit
The Staff consisted of Alfred the attendant, and a waiter who was seen in the restaurant car.
The Second Express
Edit
After Lady Penelope was kidnapped by the evil Doctor Godber she was tied to a ladder and lowered into the path of the next Anderbad Express.
Cross-sections (Cutaway Drawings)
Edit
As far as is known, only two cutaway drawings of the Monotrains exist. Both were illustrated by Graham Bleathman. The first appeared in a Redan comic, and the other featured in the Haynes Thunderbirds manual.
Main article: History of the Cutaway Drawings (Classic Thunderbirds)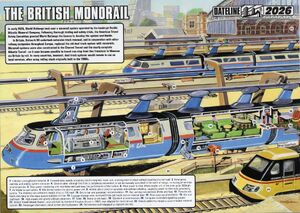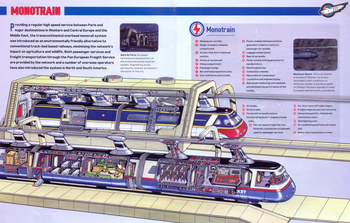 Ad blocker interference detected!
Wikia is a free-to-use site that makes money from advertising. We have a modified experience for viewers using ad blockers

Wikia is not accessible if you've made further modifications. Remove the custom ad blocker rule(s) and the page will load as expected.