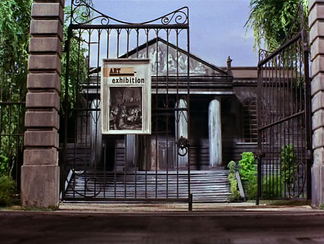 The art gallery is a location from The Duchess Assignment.
Jeff Tracy is visiting England for the London Air Display, so Lady Penelope takes him to the art gallery to view the Duchess of Royston's painting "Portrait of a Gazelle". Jeff has an idea that Wilbur Dandridge, head of Gazelle Automations, might be interested in buying it.
The Paintings
Edit
The gallery has several paintings on display, including the Duchess's painting.
Lady Penelope Takes Jeff to the Art Gallery
Edit
Lady Penelope shows Jeff the Duchess's painting.
Visitors at the Art Gallery
Edit
As well at the art gallery's security guard, four other visitors are seen.
Other Appearances (Isn't That...?.)
Edit
The outfit Lady Penelope is wearing was produced for girls by Dekker Toys UK in 1965.