"No one has been hurt and Scott will keep a check on the situation. He'll realise that this is not a job for International Rescue."
— Jeff Tracy
"Atlantic Inferno" is the first episode of Thunderbirds season 2, first broadcast on 2nd October 1966.
While Jeff takes a vacation with Lady Penelope, Scott is left in charge of International Rescue. He is chided by his father for sending the team to a fire at an oil platform when their help was not needed, but makes up for it later when the situation worsens and ignited gas starts pouring through cracks forming in the sea bed.
Storyline
Edit
Main article: Atlantic Inferno/Storyline
Transcript
Edit
Main article: Atlantic Inferno/Transcript
Regular Characters
Edit
Guest Characters
Edit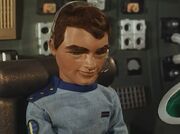 Cameo Roles
Edit
International Rescue Equipment Used
Edit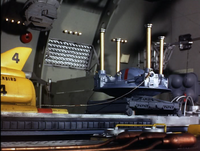 Non-International Rescue Equipment Used
Edit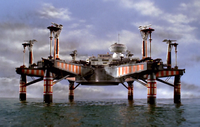 Locations
Edit
Penelope's sheep-counting meter only counts to five digits; she needs six digits to count 200,007 sheep.
When the Unnamed W.N.S. Reaper Captain says: "Okay, Lieutenant, dive!" he is voiced by Jeremy Wilkin instead of Ray Barrett.
When Sir Harry drives Penelope in his jeep, in the model long-shots, he is wearing his hard hat, but in the close-up puppet shots, he isn't wearing it.
When Seascape is being destroyed, the Thunderbird 2 model in the background has a Pod in it, despite the fact that Thunderbird 4 is still under the water.
Virgil states that Jeff has never left them on their own before, even though he had already done so in Brink Of Disaster (Although the novelisation of this episode has Jeff noting that the events of Brink were business rather than pleasure, suggesting that the Tracys didn't count this as an absence as Jeff was only going to be away for a day or two.
As Hooper says "Sound the alarms!" a hand can be seen moving his legs as he gets up from where he is sleeping.
Foreign Titles
Edit

French: Au fond de l'océan
German: Inferno im Atlantik
Spanish: Infierno en el Atlántico
Italian: Inferno nell'Atlantico
Dutch: Brand op de oceaan (TV); Zee van vuur (VHS); Atlantisch inferno (VHS, DVD)
Japanese: 海上ステーションの危機
Ad blocker interference detected!
Wikia is a free-to-use site that makes money from advertising. We have a modified experience for viewers using ad blockers

Wikia is not accessible if you've made further modifications. Remove the custom ad blocker rule(s) and the page will load as expected.