A range of mountains is suddenly rocked by a series of large explosions.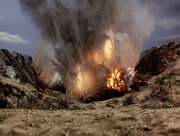 But in fact, all is well: the explosions are clearing a pass through those mountains, so that a construction crew can build a new road.
Lady Penelope Creighton-Ward
has been invited to personally observe, and she watches as several vehicles move in to clear up the rubble. A much-larger vehicle then heads through the pass, laying down the new road as it moves.
Sir Harry
, the construction boss, invites Penelope for some lunch; she declines, though, as she wants to go back to her
farm
in
Australia
.
Parker collects her, and the two head off in FAB 1. Penny's had an idea, and via her compact places a call to Tracy Island. She says that as Jeff hasn't had a holiday in a long time, he should come and join her in Australia for a few days. Jeff isn't so sure it's such a good idea, as he's needed at home to organise their rescues when emergency calls come in. His sons, though, insist he should go - they know the procedures, and can handle things without him.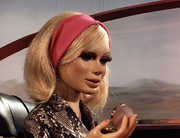 Penelope says she expects to see him later that afternoon - "I insist you come" - and ends the call before Jeff can protest. Jeff looks to his sons for support - they surely understand he needs to be there - but they shy away. Exasperated, and feeling not a little outnumbered, Jeff gives in - he'll go on holiday, "if that's what you all want," but just for a few days. Everyone thinks that's great. Jeff points out, though, he's still in charge for the time being! He lays out who will be in charge of what, while he's away: Scott, as the eldest, is to take his place; whilst Alan will take Scott's place, aboard Thunderbird 1 - only very rarely are both Thunderbirds 1 and 3 required at the same time, so Alan will take command of whichever craft the moment requires. Next, Jeff contacts Thunderbird 5, to check on things. John - who echoes his brothers' enthusiastic approval of their father's impending holiday ("It's time you had a rest!") - has nothing exciting to report, other than the World Navy running some tests in the Atlantic Ocean. Later on, Jeff is finally ready to depart, and advises Scott to keep him informed. Scott assures him he'll call only if there's an emergency situation. At last, Jeff leaves Tracy Island in his personal VTOL jet, the JT1 Condor. His brothers gather round, as Scott settles into his father's command chair in the lounge. "What'll be your first decision?" Alan wants to know, now that his big brother's in charge. "That's easy," he replies, and places a call to John. "Hi, Scott," John answers, asking "What's wrong?" Scott says nothing is wrong...
Out at sea, several Navy ships are out on maneuvers. The Captain of one of them tells his crew to send out messages to nearby ships, telling them to stay away from the area - and to also contact the giant Seascape drilling rig. The Seascape crew is informed there will be several nuclear explosions underwater, but these will pose no threat to them.
The man in charge of the rig, Frank Hooper, says he doesn't like the sound of what the Navy's just told them, but the Navy maintain that Seascape is in no danger. The test begins: a Navy submarine fires two new, and highly-powerful, weapons - gyropedoes. Both are launched simultaneously, and one hits a remote control test sub, destroying it.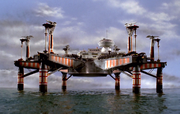 The other missile goes off-course - and, failing to respond to the sub crew's attempts to destroy it, ends up crashing into the seabed and exploding. John reports this to Scott at base, noting there seems to be no imminent danger - adding that that a guy called Hooper on the Seascape drilling rig is "hopping mad," about the whole thing. On Seascape, Hooper himself has his crew do various things to make sure the rig is safe, such as raising it up by several feet via its hydraulic legs, and increasing ballast stabilisers.
Meanwhile, Jeff's jet has arrived over Australia, giving him a good view of Penelope's sheep station, Bonga Bonga. Jeff calls that he's coming in to land, and Parker answers. He says Penelope is "out with the sheep," busily counting them, as she thinks one of the 200,007 animals she has is missing. She also thinks her sheep-counting device may be faulty...
Penelope greets Jeff at her home, and asks him how everyone at Tracy Island is doing. He says he'd better call in, to let them know he's arrived. He can make that one call, Penny tells him, but thereafter he must promise to forget about the island for the rest of his vacation. Night has fallen at Tracy Island, and Scott is still awake, and alone at his post in the lounge. He takes his father's call; everything's fine, he replies, and everyone else has gone to bed. Advising his son to take it easy, and bidding him good-night, Jeff signs off. Scott's restless, though, and again contacts John (who's also still up). Things seem quiet, the explosion in the Atlantic has apparently stabilized, and the sea has calmed down...
Several hours pass. Scott and John have both dropped off to sleep, and the Seascape crew are sleeping too... Suddenly, there's an explosion - a large flame, some 200 feet high, erupts out of the sea-bed...and very close to Seascape!
Hooper sounds the alarms; and up on Thunderbird 5, the enormous radio-racket literally shakes John awake. He reports in to Scott, and then gets in contact with Seascape to access the dangers. Hooper explains: the Navy's missile must've fractured the sea-bed, having taken a few hours to penetrate through to the gas field below the ocean floor.
Brains is also awake, and learns the situation from Scott. He says that a further explosion
could
cause huge tidal waves, but then it might
not
. "Do we get involved or not?" Scott wonders aloud. "You're in command," Brains tells him. He must decide, and he's thoughtful about what his father would do...
At Bonga Bonga , a TV news bulletin about the fire is received, which Jeff hears. Penelope thought he'd dozed off on the sofa. He tells her not to worry; no one had been hurt at the rig, "and Scott will keep a check on the situation.
"He'll realise this is not a job for International Rescue..."
Bidding Brains to go wake up his brothers, Scott declares, "This is a job for International Rescue! Thunderbirds are GO!"
Alan blasts off aboard thunderbird 1, and heads towards the rig. Scott directs Virgil and Gordon to take off in Thunderbird 2, carrying pod 4. Thunderbird 4 is hooked up with a sealing device. Alan soon arrives at, and lands aboard, Seascape. From Mobile Control, he contacts base...
Back at the farm, Jeff's been up all night. He's worried about the drilling rig, and wants to contact Tracy Island. Penelope comes in and asks him not to, as he knows that Scott and the others will handle it if needed. Jeff gives in and decides not to call, and instead go to bed...
Thunderbird 2 has arrived at the danger zone, and drops pod 4. Thunderbird 4 launches, towing the sealing device behind it' and both then submerge.
Alan informs Scott that Gordon is surveying the area. TB4 passes around the flame, and then positions the sealing device to settle directly on top of it. Special clamps are activated, and plunge deep into the sea-bed to keep the device in place. The compression valves then cap the escaping gas, and extinguish the flame.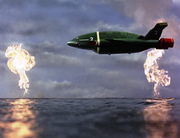 Hooper thinks International Rescue have done great, but O'Shea thinks there still may be problems - the sea-bed still seems to be unstable...
Back on Tracy Island, Alan, Gordon and Virgil have returned to base; and everyone thinks Scott did a great job. Alan thinks their father should watch out - he could be put out of a job soon...
...or not: Jeff contacts them, and he's not happy. He's heard on the news International Rescue capped the fire jet in the Atlantic. Scott says yes, they did, and were successful. Not the point, Jeff responds: International Rescue is not just a lot of machinery for putting out fires. Scott says the fire could have caused a disaster, but Jeff tells him they aren't dealing with chances. He's flying home now. And signs off. Scott can't believe it - and neither can anyone else in the lounge...
Penelope asks Jeff, is he really angry? No, he admits, he's just worried. He did mean every word he said though, including the part about him flying home. She manages to convince him to stay, as Scott will know not to send out International Rescue unless it is a real emergency. She then lets Scott know that his father won't be flying back yet, so he's back in command.
Out at Seascape, another fire jet spews out of the sea, and Hooper quickly contacts International Rescue. John reports in that this new conflagration's in a different location. Brains says Thunderbird 4 will need to fire strategically-placed missiles at the sea-bed, hitting key points in the rock which will stop the undersea fire from spreading.
Virgil wants to move out; but, uncharacteristically (for him), Scott says to wait. An alternate plan is to have the Navy evacuate the Seascape crew, and the fire can burn itself out. Once burned, twice shy: Scott doesn't want his father mad at him again...therefore, he decides this is not a job for IR. On Seascape, O'Shea reports that International Rescue isn't coming; instead, the Navy's sending helijets to airlift them away - but they won't arrive for two hours. Outside, yet another explosion erupts under the sea - creating another flame column.
This generates a large wave, which crashes into one of Seascape's support legs. The crew are thrown about, but recover. Hooper and O'Shea decide to investigate, and head down inside a diving sphere to take a look at the damage. Hooper says it looks bad, but O'Shea thinks they may be able to fix it, if they get their diving gear and start repair work...
However, still another column of flame explodes, and Seascape slips again! The line to the diving sphere is severed, and it drops to the bottom of the ocean floor - trapping Hooper and O'Shea. John learns what's happened, and tells Scott that they have a real emergency now. Alan heads out in TB1, with Virgil and Gordon right behind him in TB2...
Two Navy helijets have arrived at Seascape, and "Operation Liftoff" commences. However, the ship's captain says they can't reach Hooper and O'Shea with their own equipment. It's all up to International Rescue... Alan is soon on the scene and lands TB1 on the now-unstable Seascape...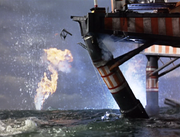 Penelope, Parker and Jeff have adjourned outside, to enjoy the sun and fresh air. She advises Parker to turn down his radio's volume, but then there's a news flash: Seascape could collapse, but International Rescue is on the scene! Jeff knows it really
is
an emergency this time, and means to head for home to help. He has his bags packed and says he must go, but Penelope says she's coming too...
Helijets continue to come and go, as Virgil drops pod 4 and TB4 launches. Alan learns from Gordon that he'll have to cut through the guide cables holding the sphere to the support column. He starts to move in, but more debris falls over the sphere from the surface above. Seascape then slips slightly again, and Alan worries TB1 could slide right off! Scott tells him to pack his gear up and take off, to oversee the rest of the operation from the air. Jeff and Penelope are on the way in his jet, as Gordon cuts through the cables; both Tracys urging their vehicles on: "Come on, baby - faster! Faster!".
Up above, the last of Seascape crew is evacuated, whilst Alan only barely gets TB1 safely into the air. From down below, Gordon reports he's cut through the last cable and will start shifting the debris...
Seascape is disintegrating, as one of the support legs gives way...
Using TB4 to push the large debris off the sphere, Gordon uses his sub's electro-magnets to haul the diving sphere out of harm's way...
Seascape's other legs collapse and the rig, enveloped in flames, is exploding...
Gordon lifts the diving sphere, and the two locked-together crafts soon surface. Virgil moves in with TB2's magnetic grabs - to lift the sphere out of the water, and take it to the safety of the Navy flotilla - whilst Alan reports in to Scott. They've completed the rescue, and the remaining fires can just burn themselves out. Scott then tells everyone to return to base...
At Tracy Island, the JT1 Condor swoops low over the Tracy Villa; and Jeff asks for permission to land, but Scott refuses it -Thunderbirds 1 and 2 are due back at any moment, so he'll have to wait. Jeff's nonplussed to hear this, but Penny approves - she tells him Scott is doing things just as his father would, "when he's on duty." Later on, when everyone has returned home and are gathered in the lounge, Jeff declares he's proud of them all. Virgil asks how his father's vacation went. Jeff says he's come home to get back to work - he figures it's the only way he can get any rest. He asks for his seat back; and Scott says, for his money, he can have it - after all this, he's the one who needs a vacation!