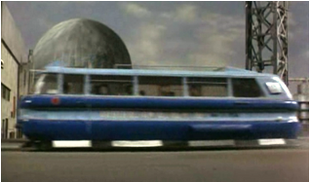 The Atomic Irrigation Station Tour Bus appeared in The Mighty Atom. It was being used for taking members of the press on a tour of the new Atomic Irrigation Station.
On board were a driver, a tour guide, and a several reporters, including two for the Melbourne Herald Newspaper.
Characters On Board the Tour Bus
Edit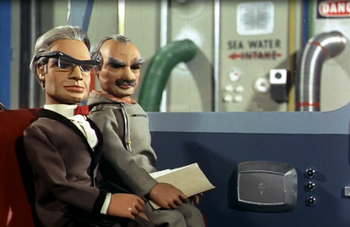 Bus Driver
Man with Orange neck scarf
Man with grey hair
Man in khaki uniform with straight brown hair
Man in khaki uniform with wavy brown hair
Man with red bow tie. (Second picture)
Man with orange neck scarf. (Second picture)
Other Appearances (Isn't That...?)
Edit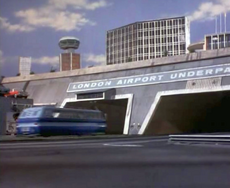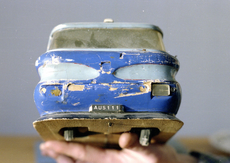 The Tour Bus also appears in The Impostors, and the movie Thunderbird 6.
The Tour Bus was supposed to be a "Hover Bus",[1] but unfortunately, in some shots its wheels are clearly visible.
The Tour Bus is one of only a handful of surviving miniature models from the classic series, one other one being the Ocean Pioneer from Danger At Ocean Deep.
Only its left side is seen in The Mighty Atom, but in its other appearances, only the right side is visible. This is because the model has the words "Australian Coach Co" written on one side, whereas the other side was conveniently left blank.
References
Edit
Ad blocker interference detected!
Wikia is a free-to-use site that makes money from advertising. We have a modified experience for viewers using ad blockers

Wikia is not accessible if you've made further modifications. Remove the custom ad blocker rule(s) and the page will load as expected.