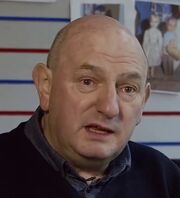 Barry Davies (born August 21st) produced puppets for Thunderbirds 1965 - Lady Penelope Creighton-Ward and Aloysius Parker at least. He additionally created the electronics required for the lips to move.
Filmography
Edit
Puppet Creation
Edit
The Stately Homes Robberies
Ad blocker interference detected!
Wikia is a free-to-use site that makes money from advertising. We have a modified experience for viewers using ad blockers

Wikia is not accessible if you've made further modifications. Remove the custom ad blocker rule(s) and the page will load as expected.