"Gentlemen, the Thunderbird machines will be arriving here at approximately 11:00 hours, tomorrow morning. The final phase of Operation "Ambush" has commenced."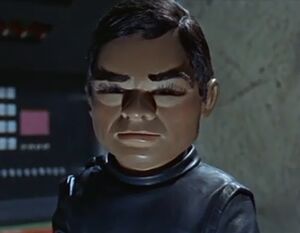 Black Phantom was a character from the movie Thunderbird 6. He ordered his Imposters to kill the Skyship One crew members in order to impersonate them and to hijack the vehicle. He also ordered his phoney Captain Foster to record a fake message from Lady Penelope Creighton-Ward so that he could trap both Thunderbird 1 and Thunderbird 2 in his desert hideout and murder their occupants.
Thankfully, Penelope told Jeff that it was a trap, and he was killed when Scott and Virgil returned fire.
He was voiced by Gary Files.
Ad blocker interference detected!
Wikia is a free-to-use site that makes money from advertising. We have a modified experience for viewers using ad blockers

Wikia is not accessible if you've made further modifications. Remove the custom ad blocker rule(s) and the page will load as expected.