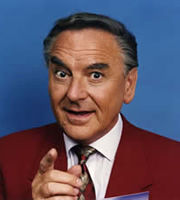 Bob Monkhouse OBE (1 June 1928 – 29 December 2003) was a renowned and respected British comedian, actor, TV presenter and Talent Show Judge. During the height of Supermarionation popularity, he provided the voice of both Brad Newman and The Swinging Star Announcer for the original Thunderbirds Are Go film, a role he landed by chance during a meeting with Gerry Anderson.
Bob Monkhouse succumbed to cancer in 2003.
Gallery: Characters voiced by Bob Monkhouse
Edit
Ad blocker interference detected!
Wikia is a free-to-use site that makes money from advertising. We have a modified experience for viewers using ad blockers

Wikia is not accessible if you've made further modifications. Remove the custom ad blocker rule(s) and the page will load as expected.