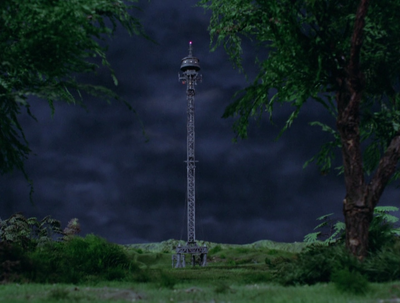 The British Telecom Tower was a telecommunications relay tower situated in England's Home Counties. It stood 83 metres high and was owned by British Telecommunications Ltd.
The tower featured in Edge Of Impact and its exact location is classified.
During the episode, it is variously referred to as "UK International Tele-Relay", "the Tele-Relay Station", "the UK International Relay Tower", or simply "the Relay Tower".
The Control Cabin
Edit
Sitting on top of the tower is the control cabin, where all the relay equipment is monitored by Jim and Stan.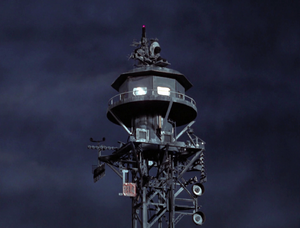 Edge Of Impact
Edit
The Hood, posing as a maintenance man, planted a diversion device at the bottom of the telecom tower.
Some time after that, when the Red Arrow 2 test goes underway, it gets diverted off course. Jim and Stan, two tower workers, when they hear from Commander Norman that an unmanned aircraft is going to hit the tower, call up the elevator. Unfortunately, Red Arrow 2 hits the tower and puts the elevator out of action before they can evacuate.
When they call for International Rescue, Virgil takes the Booster Mortar in Pod 3 which fires low-altitude escape harnesses in through the tower window. Jim and Stan get on the inspection balcony and use the harnesses to escape.
Unfortunately, the whole tower is destroyed shortly after when it topples over.