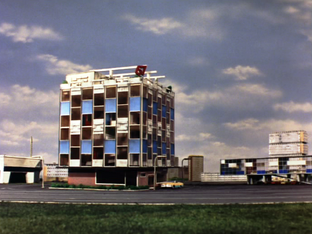 Building 67 is in the complex of London International Airport, and seen in Alias Mr. Hackenbacker.
The building has a conference room and an observation roof.
Using the alias Hiram K. Hackenbacker, Brains has designed a revolutionary new airliner, the Skythrust, for Atlantic Airlines, and travels to London Airport to watch the aircraft on its trial run.
The Conference Room
Edit
Captain Saville give a press conference to the media, before taking them up to the observation roof to meet Mr Hackenbacker, the designer of the revolutionary new airliner, and to witness its test flight.
The Observation Roof
Edit
On top of the building is a viewing platform overlooking the runway, its VIP area is also staffed by waiters who serve guests with refreshments.
Other Appearances (Isn't That...?)
Edit