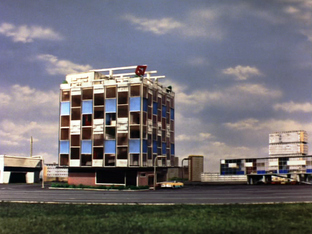 Building 67 is in the complex of London International Airport, and seen in Alias Mr. Hackenbacker.
The building has a conference room and an observation roof.
Using the alias Hiram K. Hackenbacker, Brains has designed a revolutionary new airliner, the Skythrust, for Atlantic Airlines, and travels to London Airport to watch the aircraft on its trail run.
The Conference Room
Edit
Captain Saville give a press conference to the media, before taking them up to the observation roof to meet Mr Hackenbacker, the designer of the revolutionary new airliner, and to witness its test flight.
The Observation Roof
Edit
One top of the building is a viewing platform overlooking the runway, its VIP area is also staffed by waiters who serve guests with refreshments.
Ad blocker interference detected!
Wikia is a free-to-use site that makes money from advertising. We have a modified experience for viewers using ad blockers

Wikia is not accessible if you've made further modifications. Remove the custom ad blocker rule(s) and the page will load as expected.