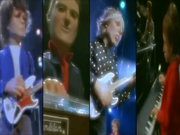 Released on the 16th of August 1991, Calling Elvis is a song performed by popular 1970's-80's band, Dire Straits. Written by band frontman Mark Knopfler, the song was the first single off their last studio album, and tells the story of a fan's constant attempts of contacting the late superstar Elvis Presley, whom he still believes to be alive. As such, many of the lyrics are titles of Elvis songs and films.
A music video accompanied the song, and it was directed by Gerry Anderson. It featured a mixture of stock and new Thunderbirds footage, plus the band recreated as Supermarionation-type puppets performing in concert.
Music Video Gallery
Edit
Production Gallery
Edit
The radio edit of the song is 4:37 minutes long, whilst the length of the album version is 6:26.
[Chorus:]
Calling Elvis, is anybody home
Calling Elvis, I'm here all alone
Did he leave the building
Or can he come to the phone
Calling Elvis, I'm here all alone

Well tell him I was calling just to wish him well
Let me leave my number, heartbreak hotel
Oh love me tender, baby don't be cruel
Return to sender, treat me like a fool

[Chorus]
Why don't you go get him, I'm his biggest fan
You gotta tell him, he's still the man
Long distance baby, so far from home
Don't you think maybe you could put him on

Well tell him I was calling just to wish him well
Let me leave my number, heartbreak hotel
Oh love me tender, baby don't be cruel
Return to sender, treat me like a fool

[Chorus]
Calling Elvis lyrics © Universal Music Publishing Group