Equipment & Vehicles
Captain Blacker's yacht

Type:
Petrol-driven yacht
Affiliation:
British Security Service MI.5
Crew:
Captain Blacker
Appearances:
The Man From MI.5
Captain Blacker's yacht is a sea vehicle that featured in The Man From MI.5. It was destroyed by Carl after he shot and killed Blacker, the ship's captain, and stole top-secret plans.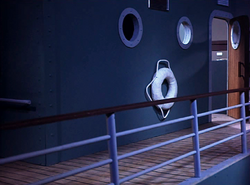 Destruction
Edit
Carl sneaks aboard the Yacht, anchored in the harbour on the French Riviera, shooting Captain Blacker before thoroughly searching his desk and eventually locating the secret papers hidden inside a container disguised as a torch battery.
He then places a limpet mine on the ship's hull and makes his escape. The ship explodes just as MI5 agent Jimmy Bondson arrives on the scene.
According to Tidman, the yacht was petrol-driven.