Conjecture
"Carl's Launch" is an unofficial title given by the Thunderbirds Wiki.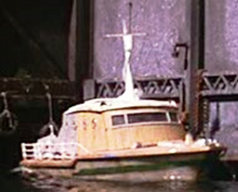 In The Man From MI.5, Carl uses a small launch to get from the quayside to the boathouse, after reading the news that Gayle Williams is out to get him! He also used it in her abduction from FAB 2.
Ad blocker interference detected!
Wikia is a free-to-use site that makes money from advertising. We have a modified experience for viewers using ad blockers

Wikia is not accessible if you've made further modifications. Remove the custom ad blocker rule(s) and the page will load as expected.