Not to be confused with the TV Century 21 magazine published from the mid-1960s to the early 1970s.
Century 21, also known as Century 21: Features & Adventure from the Worlds of Gerry Anderson and Century 21: The Worlds of Gerry Anderson, is a magazine documenting numerous Anderson series, Thunderbirds. With an issue published every three months, Century 21 features interviews with production crew and cast, cross-sections, and comic strips amongst other stuff.
List may be incomplete.
No. 1 (Collectors' Issue)
Edit
Summer 1990 - £2.95

Autumn 1990 - £2.95

Winter 1990 - £2.95

Spring 1991 - £2.95

Summer 1991 - £2.95

Autumn 1991 - £2.95
Winter 1991 - £2.95

Spring 1992 - £2.95

Summer 1992 - £2.95

Autumn 1992 - £2.95

Winter 1992 - £2.95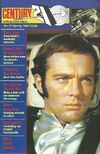 Spring 1993 - £2.95

Summer 1993 - £2.95

Autumn 1993 - £2.95