"Century 21 FX Unseen Untold" is a Stub.
You can help Thunderbirds Wiki by expanding it!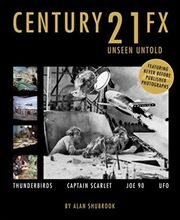 Century 21 FX Unseen Untold is a book.
Written by Alan Shubrook and released in 2007, Century 21 FX Unseen Untold documents his time at A.P. Films / Century 21 and features a large number of "never published before" photographs. The book also documents the making of numerous APF / C21 productions (with a focus on the special effects and the model-making), including but not limited to Thunderbirds, Captain Scarlet and the Mysterons, Joe 90, The Secret Service, and UFO'.
The book was reprinted in 2016.
Ad blocker interference detected!
Wikia is a free-to-use site that makes money from advertising. We have a modified experience for viewers using ad blockers

Wikia is not accessible if you've made further modifications. Remove the custom ad blocker rule(s) and the page will load as expected.