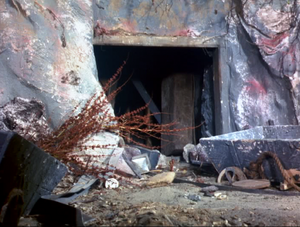 The Charity Springs Tin Mine is a location from Cry Wolf. It's just a short walk from the Williams' Homestead.
Hiding Place
Edit
Tony Williams uses the mine to hide in, while playing "International Rescue", just as he arrives at the mine he is confronted by The Hood who suggest he hide inside.
Explosion
Edit
Once the boys are inside, the Hood fires a grenade into the entrance, causing a cave-in that traps the boys.
Trapped In A Mine
Edit
The boys are trapped at the bottom of the mine, so Tony calls International Rescue on his walkie-talkie. Unfortunately, their rescue plea is assumed to be another game and no action is taken.
The Rescue
Edit
Main article: Bob Williams
Main article: Tony Williams
Ad blocker interference detected!
Wikia is a free-to-use site that makes money from advertising. We have a modified experience for viewers using ad blockers

Wikia is not accessible if you've made further modifications. Remove the custom ad blocker rule(s) and the page will load as expected.