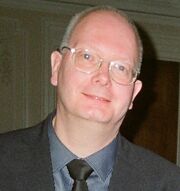 Chris Bentley
(born 1963 or 1964) is a freelance writer and designer who was the chairman of
Fanderson
between 1991 and 2007.
He wrote The Complete Book of Thunderbirds (and also received credit for the design and art direction with regards to a photograph of Gerry Anderson that features in said book), The Complete Gerry Anderson: The Authorised Episode Guide, and World of Thunderbirds (with the exception of the latter book, which he is not the sole author of). Additionally Bentley wrote a number of episode guides for Thunderbirds – A Complete Guide to the Classic Series. He also contributed an interview with Crispin Merrell, plus a feature about how the adventures of International Rescue continued in books, records, and TV commercials during the 1960s to said book. Finally for Thunderbirds: The Vault, Bentley answered many of Marcus Hearn's queries.
Other work includes The Complete Book of Captain Scarlet, The Complete Book of Gerry Anderson's UFO (in addition to the revised and expanded edition), and The Avengers on Location.