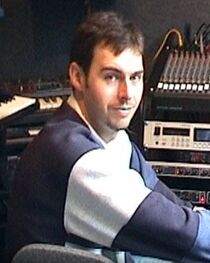 Chris King (born November 12th, 1964) is a musician and hobbyist replica puppet maker. He created, possibly amongst others, The Hood, Scott Tracy, and the NTBS reporter puppets for Thunderbirds 1965. Also, King sculpted the "normal" Hood's head and reworked the frowner sculpt. Both puppets were subsequently built by Barry Davies.
In addition to producing replicas, King has restored original Thunderbirds puppets, and puppets from other Gerry Anderson puppet series.
He worked as a sculptor alongside Stephen Mansfield on The Abominable Snowman, and gave Marcus Hearn permission to use an extract from a 2014 interview he conducted with Sylvia Anderson in Thunderbirds: The Vault, as well as allowing Hearn to photograph and scan some of the rarest items from his collection for said book.
External Links
Edit