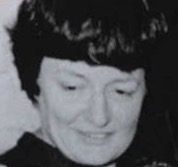 Christine Glanville (October 28th, 1924 - March 1st, 1999) was a puppetry supervisor on Thunderbirds season 1 and 2 in addition to being a puppet operator on the first feature film Thunderbirds Are Go. She sculpted Scott Tracy, Alan Tracy, and Tin-Tin Kyrano.
Glanville, along with Rowena White and David Ross, later went on to form the Stage 3 theatre company and create the stage show Thunderbirds.
External Links
Edit
Ad blocker interference detected!
Wikia is a free-to-use site that makes money from advertising. We have a modified experience for viewers using ad blockers

Wikia is not accessible if you've made further modifications. Remove the custom ad blocker rule(s) and the page will load as expected.