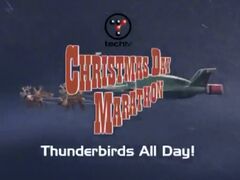 To celebrate the 2002 festive season, TechTV held a special televised event. Starting from 7am, a menagerie of classic Thunderbirds episodes were bundled together into a single massive Christmas Day Marathon, which ran concurrent throughout the rest of the holiday.
Commercial
Edit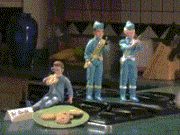 Arguably the marathon's greatest legacy came in the form of a commercial which never aired. Taking place within a house,
a
trio
of
12-inch talking figures from the 2000 toyline were strung up (though dislocated at the shoulders for more articulation) similar to their puppet counterparts, and set about causing Christmas-related hijinks, such as hiding in presents and stockings, or stealing cookies left out for Santa. The commercial ended with a short animation of
Thunderbird 2
soaring through the snowy night with help from a group of flying reindeer.
The commercial's director, Jaan Shenberger, made a cameo attempting to (unsuccessfully) frighten off the pesky figures with a broom.
Ad blocker interference detected!
Wikia is a free-to-use site that makes money from advertising. We have a modified experience for viewers using ad blockers

Wikia is not accessible if you've made further modifications. Remove the custom ad blocker rule(s) and the page will load as expected.