"I guess she had that coming. People like that cause accidents, they're a menace."
— Joe Carter
"City Of Fire" is the fifteenth episode of Thunderbirds season 1, first broadcast on 6th January 1966. It was the third episode to be produced.
Thompson Tower – an entire city contained in one enormous skyscraper – is opening for business when a car crash sends the whole tower up in flames. A family is trapped in the basement as the building collapses, but the only way International Rescue can reach them is to use an unreliable new cutting gas developed by Brains.
Storyline
Edit
Main article: City Of Fire/Storyline
Transcript
Edit
Main article: City Of Fire/Transcript
Regular Characters
Edit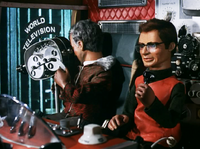 Guest Character
Edit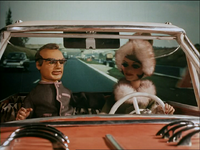 Cameo Roles
Edit
International Rescue Equipment Used
Edit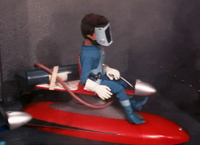 Non-International Rescue Equipment Used
Edit
Locations
Edit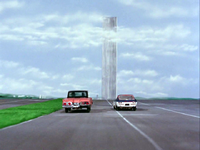 This was the first episode to be aired in 1966.
Due to the show being first broadcast in production order in Australia, this was the third episode instead of The Perils Of Penelope. This same pattern was also used when the show was rerun on BBC2.
The Control Tower from London International Airport makes two sneaky cameos in this episode.
Main article: City Of Fire/Goofs
Alternate Versions
Edit
In 1992, several episodes of Thunderbirds were adapted into comic book format for Fleetway's Thunderbirds The Comic series, with City Of Fire the fifth story. Written by Alan Fennell and illustrated by Steve Kyte, the 12 page adaptation began in issue #15 and was spread over 3 issues, emulating the presentation of the 1960's TV Century 21 stories.
Foreign Titles
Edit
French: Au feu!
German: Stadt in Flammen
Spanish: Ciudad en Llamas; La ciudad de fuego (DVD)
Italian: Un tragico incidente
Dutch: Stad in vlammen (TV 1966); Stad van vuur (TV 1991); Vuurstad (VHS, DVD)
Japanese: 世界一のビルの大火災
Ad blocker interference detected!
Wikia is a free-to-use site that makes money from advertising. We have a modified experience for viewers using ad blockers

Wikia is not accessible if you've made further modifications. Remove the custom ad blocker rule(s) and the page will load as expected.