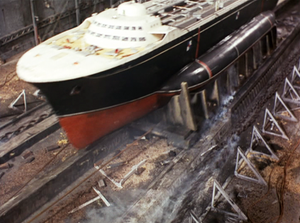 Six months after Ocean Pioneer I was lost, Ocean Pioneer II was launched from Clydeside Dockyard by Lady Penelope, who was the guest of Lord Worden. The launch was a success, but Lady Penelope told the TV Reporter that "the bottle of champagne didn't quite break with the pop she expected". Unbeknown to her Parker had switched it with a bottle of soda water, and was sat in FAB 1 with Stevens (a fellow chauffeur) drinking it!
The Gantry
Edit
Several guests can be seen on the gantry, including the cameraman and reporter.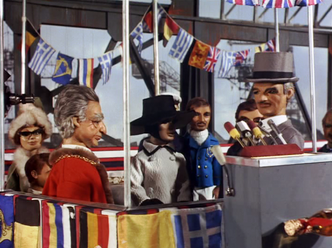 World TV Cameraman (not in photo)
World TV Reporter (not in photo)
Lady in fur hat
Young boy
The Mayor
Lady Penelope
Man in Navy uniform, with dark glasses (behind Lady Penelope)
Man in blue jacket
Man partly hidden
Lord Worden
Man with bald head
Other Appearances. (Isn't That...?)
Edit
Ad blocker interference detected!
Wikia is a free-to-use site that makes money from advertising. We have a modified experience for viewers using ad blockers

Wikia is not accessible if you've made further modifications. Remove the custom ad blocker rule(s) and the page will load as expected.