"Colonel (Operation Cover-Up)" is a Stub.
You can help Thunderbirds Wiki by expanding it!
The unnamed Colonel was a character in The Impostors. He was part of General Lambert's team in the hunt for International Rescue. Along with his guard, they searched Tracy Island without success.
The Colonel is voiced by Ray Barrett.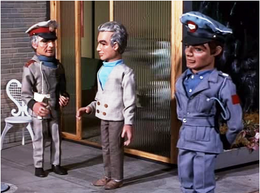 Ad blocker interference detected!
Wikia is a free-to-use site that makes money from advertising. We have a modified experience for viewers using ad blockers

Wikia is not accessible if you've made further modifications. Remove the custom ad blocker rule(s) and the page will load as expected.