"Commercial Fire Truck" is Under Construction.
Please feel free to add anything that you think might improve this page.
The Commercial Fire Trucks are a group of fire fighting vehicles employed by the Emergency Services of several locations across the world. They are often used alongside Fire Tenders, to fight fires until International Rescue arrives at the danger zone. Some of them are equipped with multiple water/foam cannons that give them advantages over Fire Tenders when it comes to fighting fires.
There are several different types of Commercial Fire Truck. The first one is very similar in appearance to the Explosives Tractors that are employed by road making companies, and to the Transmitter Truck that saved Thunderbird 3. One of these was purchased by Jeff Tracy for International Rescue. This variant appeared in Security Hazard.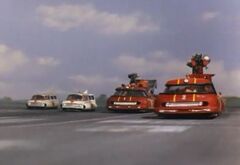 Another variant of the Fire Truck was employed by London International Airport to be used alongside ambulances in times of emergency crash landings. This variant was seen in Trapped in the Sky, and also in Alias Mr. Hackenbacker (reused clip).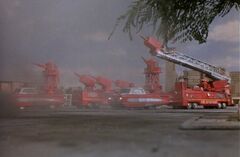 The final variant of the Fire Truck is, again red in colour and is capable of carrying many water/foam cannons, meaning that only a few Fire Trucks have to be sent into the danger zone. It appeared in City Of Fire.
Main article: Commercial Fire Trucks (City of Fire)
Appearances
Edit
Ad blocker interference detected!
Wikia is a free-to-use site that makes money from advertising. We have a modified experience for viewers using ad blockers

Wikia is not accessible if you've made further modifications. Remove the custom ad blocker rule(s) and the page will load as expected.