Equipment & Vehicles
Copter Watchdog

Type:
Twin-Rotor Helicopter
Affiliation:
U.S. Army
Top Speed:
220 mph
Crew:
2
Appearances:
Pit of Peril
Copter Watchdog is the callsign of a U.S. Army helicopter (no. 52723) featured in Pit of Peril. During said episode, it served as the support helicopter to the Sidewinder. Besides the pilot, on board are General Peters and Lieutenant Ralph.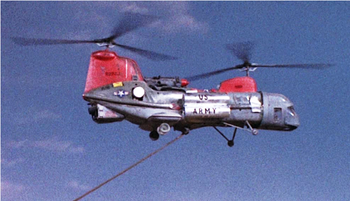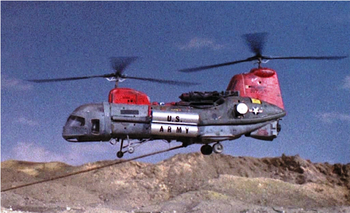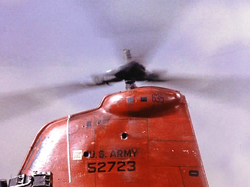 Technical Data
Edit
Fuselage length: 17 metres
Length overall: 26 metres
Max range: 2735 miles
Max take-off weight: 18,600 kgs
Maximum Speed: 220 mph
Power: 4 T66-L70 turboshaft engines; 2 UEI-N77 topside turbojets
Rotor blade diameter: 17.84 metres
Weight (empty): 9,505 kgs
The name of the pilot is unknown. He holds the rank of Captain.
Other Passengers
Edit
Heavy Haul
Edit
General Peters sends Sergeant Reynolds into the pit to attach a line to one of the Sidewinders legs. The Helicopter tries to haul the vehicle out of the pit , but the line slips off, leaving Peters no choice but to call in International Rescue
A Helping Hand
Edit
Virgil is lowered into the pit in protective clothing to lay explosive charges to clear the crust over the pit.
Cross-section (Cutaway Drawing)
Edit
The only known cutaway of the Copter Watchdog was drawn by Graham Bleathman and featured in a Redan comic.
Main article: History of the Cutaway Drawings (Classic Thunderbirds)
Two differently sized miniature models were used during filming.