Countdown to Disaster
Writer(s)
Distributor

ITC Entertainment
Channel 5

Released

1982, 1986

Runtime

95 Mins
Countdown to Disaster (aka Thunderbirds: Countdown to Disaster) was a compilation film originally released by ITC Entertainment in 1982. It was the third and final in a series of three films comprised of two episodes each, spliced together into a single feature-length movie.
The film is a compilation of Terror in New York City and Atlantic Inferno. (For plot-related info, please visit their respective pages.)
Deleted Scenes
Edit
Terror in New York City
Edit
Virgil praising Kyrano's cooking
Ned Cook and Joe tumbling down into the abyss
The panning shot of the IR team in the audience at the Ned Cook Show
Atlantic Inferno
Edit
The entire opening sequence of Lady Penelope blowing up a mountain
The sequence showing the World Navy preparing for their target practice
Opening Credits:
FILMED IN SUPERMARIONATION
Closing Credits:
Associate Producers: Reg Hill, John Read
Director of Photography: John Read
Characters Created by: Sylvia Anderson
Puppetry Supervision: Christine Glanville & Mary Turner
Puppet Operators: Ernest Shutt, Judith Shutt, Wanda Webb
Sculpting Supervision: John F. Brown
Sculptors: John Blundall, John Brown
Character Voices: Sylvia Anderson, Ray Barrett, Peter Dyneley, Christine Finn, David Graham, David Holliday, Shane Rimmer, Jeremy Wilkin, Matt Zimmerman
Lighting Cameraman: Julien Lugrin
Special Effects Lighting Cameramen: Michael Wilson
Camera Operators: Gary Coxall, Jimmy Elliott, Geoff Meldrum, Noel Rowland
Supervising Art Editor: Bob Bell
Art Director: Granville Nott [sic]
Script Supervision: Gerry & Sylvia Anderson
Script Editor: Alan Pattillo
Wardrobe: Elizabeth Coleman
Supervising Editor: Len Walter
Editors: Peter Elliott, Harry MacDonald
Supervising Sound Editor: John Peverill
Sound Editors: Norman Cole, Brian Hickin
Sound: Maurice Askew, John Taylor
Dialogue Editor: Roy Lafbery
Property Master: Arthur Cripps
Special Effects 2nd Unit: Director: Jimmy Elliott
Special Effects 2nd Unit: Lighting Cameraman: Harry Oakes
Camera Operator: John Foley
POST PRODUCTION
Copyright ITC Entertainment, Inc. 1982
All rights reserved.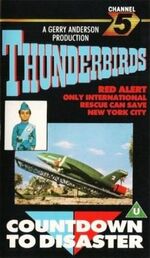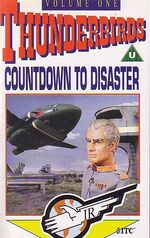 Transition Between Episodes: As Ned Cook delivers his gratitude to International Rescue live, the image fades back to Tracy Island with Jeff receiving a call from Lady Penelope. No attempt is made to explain the passage of time.
Countdown To Disaster is the only film of the series not to have "Thunderbirds" in the opening titles.
The opening credits are displayed over a scrolling text background. Although most of this text is semi-nonsensical technospeak, it also includes a number of lines that appear to have been inserted as some kind of practical joke. Among them:

"Brains is Howdy Doody's illegitimate son"
"Troy loves Phones"
"Danger Oscillator 5-3877 is out to get you"
"Captain Scarlet Lives"
Grenville Nott is miscredited as Granville Nott
Foreign Titles
Edit
Hebrew: הספירה לאחור ("The Countdown")