"You're gonna do things my way...or else I can cause even more unpleasantness with Dr. Orchard's remarkable discovery..."
Culp is a boatman, who plies his trade on the Ambro River, somewhere in South America. He sometimes works for Dr. Orchard, a scientist who lives and works in a secluded old house along the banks of the river. But there's far more to Culp than just his navigational talents - as he, and all those with whom he comes in contact (human, and otherwise!), learns...to his ultimate cost...
Culp - voiced by David Graham - appears in Attack of the Alligators!.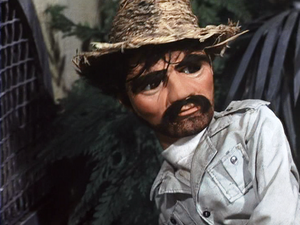 Biography
Edit
Culp transports people up- and down-river in his weather-beaten boat, "Culp's River Boat"Maria". One day, he takes a businessman, Blackmer, to visit Dr. Orchard at the latter's River House. When a violent storm breaks out soon after their arrival, they must remain there overnight before their return journey back to the river station.
Culp the Thief
Edit
From outside the River House, Culp eavesdrops on Dr. Orchard as the scientist and his assistant Hector McGill explain to their guest the discovery and potential uses of a substance called Theramine. Sensing the prospect of money to be made, he furtively rises during the night - and steals the laboratory keys from the room of Dr Orchard's housekeeper, Mrs. Files. Using them to admitting himself to the lab, he takes the Theramine from the cupboard and attempts to pours some into a phial - but, in so doing, he accidentally tips some of it into the sink...washing it away, into the river...
Big Trouble Down the Plughole
Edit
Culp hurriedly replaces the spilt Theramine with another liquid, and then returns to the couch he was allowed to sleep on for the night...
In the morning, as Culp ferries Blackmer back down the river, the "Maria" is attacked by one of the river's eponymous alligators - one that has grown to enormous size! The boat's overturned, and the two men are thrown into the river. Blackmer is rescued by Hector McGill in a motor boat...but there's no sign of Culp...
Back From The Dead...
Edit
At Mrs Files' suggestion, McGill calls International Rescue - and Thunderbirds 1 and 2 are soon on the scene. Scott manages to make his way to the River House and joins those trapped inside by the giant gators - trying to smash their way in - as they try to devise a means of escape...
Although Mrs Files says she knows that a secret underground passageway exists, built by the house's previous owner, she doesn't know where to find it. Luckily - or unluckily - someone else does: Culp, who now dramatically reappears! Emerging from behind a bookcase, he takes Scott by surprise and disarms him.
His Final Getaway?
Edit
Holding Scott and the others at gunpoint (and with Scott's brothers listening in, from aboard Thunderbird 2), Culp makes clear he intends to escape with the phial of Theramine - threatening to pour it into the swamp, unless he's given clear passage. He sets off in Dr Orchard's motor launch. Suddenly, yet another alligator attacks - and Culp's again thrown into the swamp...this time, never to be seen again...