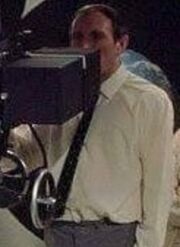 Derek Black is/was a cameraman. He worked as a location unit camera operator on Thunderbird 6, who most likely helped shoot the live-action Tiger Moth bi-plane sequences. Black previously worked on Captain Scarlet and the Mysterons (1967), and would later work on UFO (1970).
Gerry Anderson productions aside, he was a camera operator on The Informers (1963).
External Links
Edit
Ad blocker interference detected!
Wikia is a free-to-use site that makes money from advertising. We have a modified experience for viewers using ad blockers

Wikia is not accessible if you've made further modifications. Remove the custom ad blocker rule(s) and the page will load as expected.