"No man can stay in the burning sun for long without having his tongue loosened."
— The Hood
"Desperate Intruder" is the eighth episode of Thunderbirds season 1, first broadcast on 18th November 1965. It was the seventeenth episode produced.
Brains and Tin-Tin go on an expedition to find the lost sunken temple in Lake Anasta in hopes of finding hidden treasure. However their quiet vacation is cut short when the Hood goes to dangerous lengths to stop them and claim the treasure himself.
Storyline
Edit
Main article: Desperate Intruder/Storyline
Transcript
Edit
Main article: Desperate Intruder/Transcript
Regular Characters
Edit
Guest Characters
Edit
Cameo Roles
Edit
International Rescue Equipment Used
Edit
Non-International Rescue Equipment Used
Edit
Locations
Edit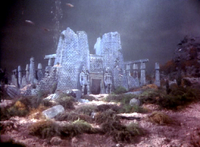 Foreign Titles
Edit
French: Le trésor du lac
German: Der versunkene Schatz
Spanish: Un Intruso Siniestro; Intruso desesperado (DVD)
Italian: Il tesoro perduto
Dutch: Verdronken schat (VHS); De wanhopige indringer (VHS, DVD, TV 1966); De gevaarlijke indringer (TV 1992)
Japanese: 湖底の秘宝
Ad blocker interference detected!
Wikia is a free-to-use site that makes money from advertising. We have a modified experience for viewers using ad blockers

Wikia is not accessible if you've made further modifications. Remove the custom ad blocker rule(s) and the page will load as expected.