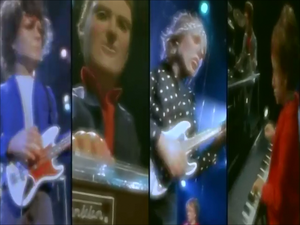 Dire Straits were a British rock band. Formed in 1977, they wrote and recorded many hits, including Money For Nothing, Private Investigations and Tunnel Of Love. They dissolved in 1995.
Calling Elvis
Edit
Calling Elvis was a single off their last album, On Every Street. The music video contained the band as Supermarionation-type puppets, and was directed by Gerry Anderson.
Ad blocker interference detected!
Wikia is a free-to-use site that makes money from advertising. We have a modified experience for viewers using ad blockers

Wikia is not accessible if you've made further modifications. Remove the custom ad blocker rule(s) and the page will load as expected.