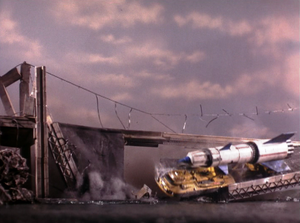 A Martian Space Probe rocket (M.S.P), being transported to its launch site - and how, and why, it never arrives - is at the center of the action and events of the episode Day Of Disaster.
The M.S.P. and its equally-massive transporter are travelling overland, in order to be ready to launch on a particularly-advantageous date for its mission to succeed. The route leads over the Allington Suspension Bridge...
All goes well, at first, as the M.S.P. convoy, escorted by police vehicles, slowly ventures out upon the bridge. The load is well within the overall capacity of the bridge...but not as a concentrated mass. Suspension cables start snapping, flailing uselessly through the air; and finally the overloaded bridge surrenders - the M.S.P. goes toppling from the transporter, and into the Allington River below...
The heavy rocket sinks like a massive stone, and rudely thuds into the river-bottom. Although the ship is basically sound (no water leaking in - yet), and its two-man crew are shaken, but otherwise safe, in its command module, it lies surrounded by masses of debris from the ruined bridge.
Worst of all, though, the M.S.P. - fully-loaded with dangerous rocket fuel - has landed in an upright position; and the force of impact has triggered the automatic launch countdown, which cannot be stopped - and will blow the rocket to pieces! Can the two astronauts trapped aboard be rescued in time?
The Rescue
Edit