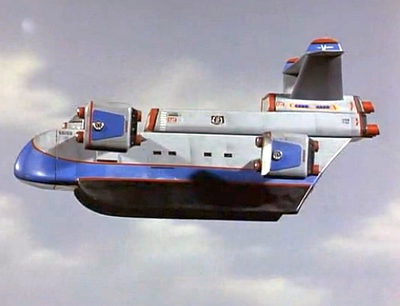 The EJ2 Jet was a VTOL aircraft seen in Operation Crash-Dive and The Impostors.
The EJ2 Jet is mainly used by the World Navy as an air-sea rescue aircraft.
The air-sea rescue version is capable of landing on water with its floatation tanks as long as conditions aren't too bad.
Technical Data
Edit
Crew (minimum): 3
Crew (maximum): 20
Height: 42.32 feet
Length: 91.86 feet
Payload: Up to 8,200 kg
Range: 1,609 km (1,000 miles)
Weight: 32.474 tons
Wingspan: 80.38 feet
Operation Crash-Dive
Edit
A blue and silver one was owned by a gang that hijacked Fireflash airliners and it was seen when the gang member shoots a flare from his boat after Fireflash 4 crashes into the ocean.
The Impostors
Edit
A green and yellow one was owned by Carela and Jenkins. It was seen briefly before they come up from the underground well.
TV Century 21
Edit
In a TV Century 21 comic-strip story focusing on Stingray, a blue and silver EJ2 Jet was described as a "Blue Whale" air-sea craft, which belonged to the World Aquanaut Security Patrol (W.A.S.P).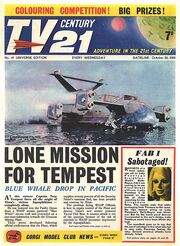 The vehicle looked similar to that of Pokemon Hunter J's vessel in the Pokemon Diamond and Pearl series.
Ad blocker interference detected!
Wikia is a free-to-use site that makes money from advertising. We have a modified experience for viewers using ad blockers

Wikia is not accessible if you've made further modifications. Remove the custom ad blocker rule(s) and the page will load as expected.