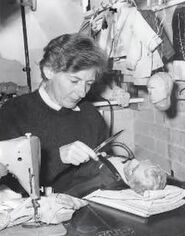 Elizabeth Coleman (c. 1910s - c. 1990s) was a costume designer and supervisor who was credited as "wardrobe" on Thunderbirds season 1 and 2, as well as the first feature film Thunderbirds Are Go. Other credits include The Drums of Jeopardy (1931), Picture Brides (1934), and Stingray. Coleman later emigrated to South Africa and passed away.
External Links
Edit
Ad blocker interference detected!
Wikia is a free-to-use site that makes money from advertising. We have a modified experience for viewers using ad blockers

Wikia is not accessible if you've made further modifications. Remove the custom ad blocker rule(s) and the page will load as expected.