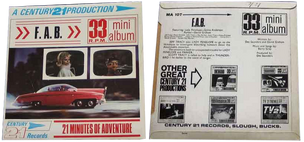 "F.A.B." was the second in a series of three original records to feature Thunderbirds. Released by Century 21 Records in April 1966, the 7" vinyl consists of an exclusive 21 minute adventure written by Desmond Saunders and David Graham, starring Lady Penelope, Parker, and Scott Tracy.
Rumours of an Abominable Snowman lead Lady Penelope and Parker to the Himalayas, but when the situation turns dire, it's up to Scott Tracy to rescue the duo.
A Dutch version titled "De Verschrikkelijke Sneeuwman" was released on LP in the Netherlands.
The audio story was turned into an episode in 2015, as part of the Kickstarter-funded Thunderbirds 1965 project. It was retitled The Abominable Snowman.
Transcript
Edit
Main article: The Abominable Snowman (Century 21)/Transcript
Ad blocker interference detected!
Wikia is a free-to-use site that makes money from advertising. We have a modified experience for viewers using ad blockers

Wikia is not accessible if you've made further modifications. Remove the custom ad blocker rule(s) and the page will load as expected.