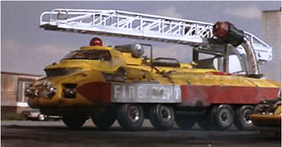 The Fire Tender is a pod vehicle that was purchased from a firefighting equipment manufacturer by International Rescue. It serves as a backup to Firefly and International Rescue's so-called fire truck. During firefighting operations, the vehicle serves as a mobile control room.
On board are heat protection suits and breathing apparatus. Environment sensors at the front of the vehicle measure temperature, pressure, and gas emissions.
Technical Data
Edit
Crew: up to 6
Ladder length: 26 metres
Length: 14 metres
Power: gas turbine engine
Water capacity: 2800 litres
Water pump: 8000 litres per minute from hydrants
Weight: 12 tonnes
Width: 6 metres
Appearances
Edit
The Fire Tender appears in City Of Fire, unsuccessfully trying to control the fire inside Thompson Tower.
A Fire Tender is seen in Cry Wolf along with many other Pod machines in the Pod Bay on Tracy Island
Ad blocker interference detected!
Wikia is a free-to-use site that makes money from advertising. We have a modified experience for viewers using ad blockers

Wikia is not accessible if you've made further modifications. Remove the custom ad blocker rule(s) and the page will load as expected.