Equipment & Vehicles
Fireflash 3

Type:
Airliner
Affiliation:
Air Terrainean
Top Speed:
4567 mph

(7200 Kmh)

Main Operator:
Air Terrainean
Crew:
Unnamed Pilot
Appearances:
Operation Crash-Dive
In Operation Crash-Dive, Fireflash 3 was lost without trace when it left London International Airport, and despite a thorough search, no wreckage was found. The last reported position was TS757/AR436.
Fireflash 3 carried the serial number J2000 / AT208 on the underside of its wings.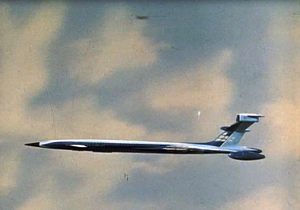 Ad blocker interference detected!
Wikia is a free-to-use site that makes money from advertising. We have a modified experience for viewers using ad blockers

Wikia is not accessible if you've made further modifications. Remove the custom ad blocker rule(s) and the page will load as expected.