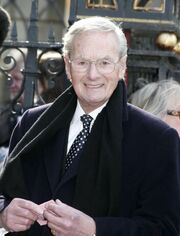 Francis Matthews (September 2nd, 1927 - June 14th, 2014) was an English actor, best known for his roles in Captain Scarlet and the Mysterons and Paul Temple.
He was interviewed for the documentary All About Thunderbirds.
Matthews was asked to contribute voices to Thunderbirds, but declined. He most likely replaced by either Matt Zimmerman or John Tate.
Ad blocker interference detected!
Wikia is a free-to-use site that makes money from advertising. We have a modified experience for viewers using ad blockers

Wikia is not accessible if you've made further modifications. Remove the custom ad blocker rule(s) and the page will load as expected.