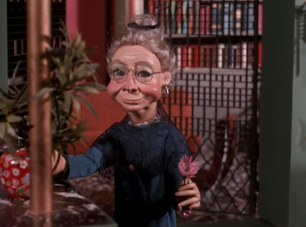 The relationship between Alan Tracy and Tin-Tin was made more obvious in the episode End Of The Road.
Eddie Houseman had turned up on Tracy Island unannounced, and swept Tin-Tin off her feet, much to the annoyance of Alan.
Grandma Tracy was making a dress for Tin-Tin, which she thought Alan would like, but things soon changed when Eddie arrived.
After he left (as quick as he arrived) without saying "bye", Tin-Tin was left felling let down.
While Alan was away on a mission to save Eddie, Grandma dropped hints that Alan had gone to help her loved one, feeling very sick. This did the trick, and soon her thoughts turned back to poor Alan.
After the rescue, Tin-Tin asked Jeff, if she could speak to Alan. To Alan's amazement, Tin-Tin was asking was he alright, and that she had been so worried about him. Alan once again had a smile on his face, thanks to a few words from Grandma Tracy.