Grandma Tracy is the mother of Jeff Tracy, grandmother of his five sons (with his late wife, Lucille), and matriarch of the Tracy family.
Appearances
Edit
Grandma appears in 17 episodes: Terror In New York City, Day Of Disaster, Desperate Intruder, End Of The Road, The Uninvited, Operation Crash-Dive, Vault Of Death, The Mighty Atom, The Man From MI.5, Cry Wolf, Move And You're Dead, The Duchess Assignment, Attack of the Alligators!, The Cham-Cham, Lord Parker's 'Oliday, Ricochet, and Give or Take a Million.
She also appears in the movie Thunderbird 6, although only in a non-speaking role.
Adventures
Edit
Move and You're Dead
Edit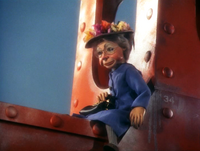 End of the Road
Edit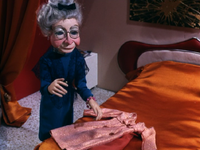 Unlike many other recurring characters in Thunderbirds, a lot of Grandma's personal life is unknown. She was born in the late 1980s, and her grandmother once told her about the old subway systems that existed across the world before Monotrains were invented.
It is rumoured that her first name is Cecilia.
The Grandma puppet was sculpted by John Blundall, who also made Kyrano and Parker; and was provided with "normal," "smiler," "frowner" and "blinker" heads.
"Just where has that son of mine got to? I can't seem to find him anywhere." - The Duchess Assignment
"The problem with living on a secret base is, visitors are few and far between." - Cry Wolf
"You want to come out the ground, but you can't use the Mole...is that the problem?" - Vault of Death
Ad blocker interference detected!
Wikia is a free-to-use site that makes money from advertising. We have a modified experience for viewers using ad blockers

Wikia is not accessible if you've made further modifications. Remove the custom ad blocker rule(s) and the page will load as expected.