For the character from the 2015 Remake, see Grandma Tracy (TB2015)
"Goodness! I just can't believe that I'm joining (the) International Rescue team at last. I'm dead proud of you boys, and the wonderful things you do."
Grandma Tracy is the mother of Jeff Tracy, grandmother of his five sons (with his late wife, Lucille), and matriarch of the Tracy family.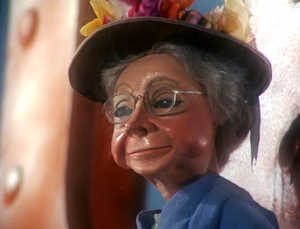 Appearances
Edit
Grandma appears in 17 episodes: Terror in New York City, Day Of Disaster, Desperate Intruder, End Of The Road, The Uninvited, Operation Crash-Dive, Vault Of Death, The Mighty Atom, The Man From MI.5, Cry Wolf, Move And You're Dead, The Duchess Assignment, Attack of the Alligators!, The Cham-Cham, Lord Parker's 'Oliday, Ricochet, and Give or Take a Million.
She also appears (albeit in a non-speaking role) in the movie Thunderbird 6.
Main article: Grandma Tracy/Appearances
Adventures
Edit
Move and You're Dead
Edit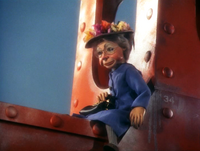 Main article: Grandma - Don't Move!
End of the Road
Edit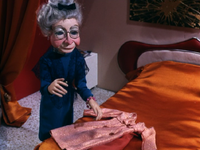 Main article: Grandma Plays Cupid
Main article: Grandma Tracy's House
Main article: Grandma Tracy/Outfits
Unlike many other recurring characters in Thunderbirds, a lot of Grandma's personal life is unknown. She was born in the late 1980s, and her grandmother once told her about the old subway systems that existed across the world before Monotrains were invented.
Grandma's puppet was sculpted by John Blundall, who also made Kyrano and Parker; and was provided with "normal," "smiler," "frowner" and "blinker" heads.
"Just where has that son of mine got to? I can't seem to find him anywhere." - The Duchess Assignment
"The problem with living on a secret base is, visitors are few and far between." - Cry Wolf
"Oh dear. That means we're out of touch with John." - Attack of the Alligators!
"You want to come out the ground, but you can't use the Mole...is that the problem?" - Vault of Death
"Well, I know someone who's got you very much in mind. Young Alan is a mighty handsome boy...!" - End of the Road